A new era

of fun

The Golf GTI, same blood-pumping, spine-tingling, heart-racing driving experience. Say hello to the hot hatch that was born to break routines and embrace the everyday escape. Complete with a full digital revamp and fitted with the state-of-the-art safety systems of IQ.DRIVE4, the GTI promises to inject some excitement into every adventure.

Book a Test Drive
Take life up a level
Tuned to perfection to outdrive boring, the GTI channels the power of the original compact sports car and kicks things up a gear with levels of control and dynamic ability.
If looks could thrill
Not just a looker on the outside, the interior revamp delivers a sleek digitalized experience with the introduction of the Innovision Cockpit to bring a new level of luxury to the driving experience.
Escape in style
The GTI has a fearless history of mixing timeless style with cutting-edge technology and the new generation is no different. From the exclusive 18" Richmond alloy wheels to the new LED crossbar, this hatch knows how to turn heads.
The road
awaits
Power refined; the evolved hot hatch is tuned to leave the 9-5 lifestyle in its dust.
Engine
Giddy up
With 180kW of power, the fourth evolution of the 2.0 litre turbocharged TSI engine has enough horsepower to take you from 0-100 in 6.4 seconds. Side-effects may include butterflies, raised hair and breath being well and truly taken away.
Front Differential lock
Maximum performance,

maximum comfort

The new and evolved hot hatch loves the drive as much as you do. With a built-in Vehicle Dynamics Manager electronically controlling the Front Differential Lock, the GTI can read the road to counteract understeer, stabilise the vehicle response and deliver maximum traction in high performance environments. Of course, you can always dial it down for a more hands-on experience.
Progressive steering
Built for
the scenic route
Carve your way through winding roads with ease. By significantly reducing the effort required to steer, the revolutionary progressive steering system can take you lock-to-lock in just 2.1 turns of the wheel.
Looks fun.
Is fun.
New look, same fiery spirit. Say hello to the newstandard in hot hatch design.
Deny the dull
The Golf GTI takes the classic sporty style and adds striking new design elements. From the iconic tartan upholstery and honeycomb inserts to the reimagined red radiator grille trim, now illuminated and complemented with bold LED fog lights in a striking X formation.
Arrive in style
Instantly recognisable on any road, the new 18" Richmond alloy wheels have been exclusively designed for the GTI to give you a look at those classic red brake calipers.
Safety has a
new standard with IQ.DRIVE
With the GTI's comprehensive suite of driver assistance systems, you can enjoy every journey even more knowing you're in safe hands.2
Meet your co-pilot
With revolutionary Travel Assist features, you can take any trip with confidence. When switched on, the GTI's semi-autonomous technology can guide you within lane markings at highway speeds, monitor potential hazards and even automatically adapt your speed to traffic situations.2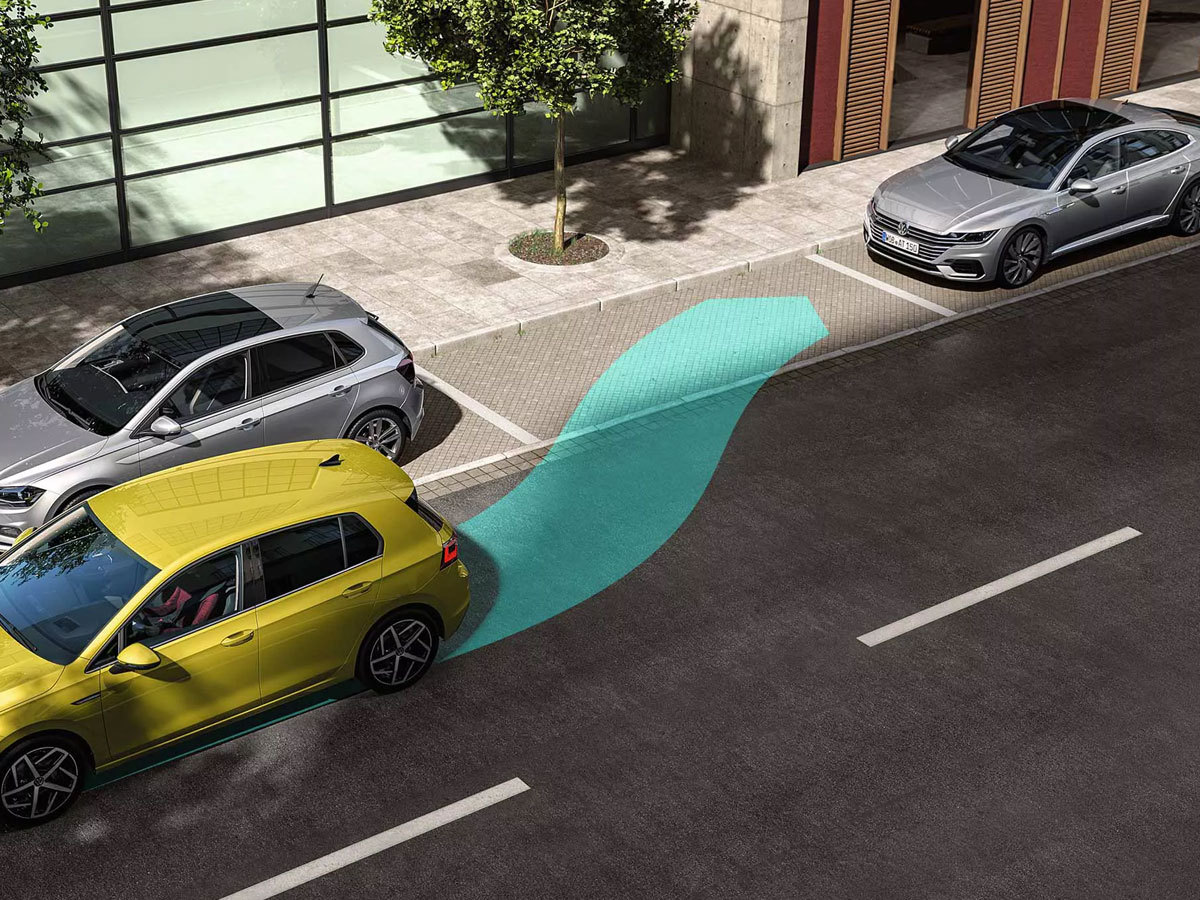 Nice moves
Impress friends, family and the occasional pedestrian as you glide into tricky parallel and right-angle spots with ease. Using the rear-view camera and semi-automated Park Assist's sensors, the new Golf can do the manoeuvring for you while you focus on the pedals. 2
Prepare to escape your everyday in a
most unforgettable way
The Golf GTI has never settled for anything less than the best and it doesn't now either. With equal measures of pure performance and state-of-the-art technology, you can prepare yourself for an unforgettable driving experience.
Book a Test Drive
Innovision Cockpit
Not just a
pretty interface
Step into the all-digital Innovision Cockpit and explore a winning combination of the Digital Cockpit Pro and 10" Discover Pro Navigation System. Complete with a unique GTI skin and intuitive touch controls, the customisable system puts everything you need at your fingertips.
Head-up display
Lead

the way

You'll never need to take your eyes off the road with the built-in Head-Up display, an illuminated view of your speedometer projected on the inside of the windscreen.
3-zone climate control
Chills

included

Finding the perfect temperature can quite literally keep people up at night. In the new Golf, you can find it easily on the infotainment system along with functions, such as 'warm hands' or 'fresh air'. The best part, your passenger in the front can set their own temperature, as well as anyone in the back, thanks to the 3-Zone Climate Control.
Wireless App-Connect
Connect

your worlds

Say goodbye to the world of cords and cables and use the GTI's wireless charge station to give your device all the energy it needs in an easily accessible compartment. Plus, if you feel like pumping your favourite driving playlist or calling your friends, you can wirelessly access your favourite apps with Apple CarPlay® or Android Auto™ through App-Connect.4
Excitement guaranteed

with optional extras

Take your GTI to the next level with optional packages designed to transform the driving experience with more luxury, more style and more fun.
Sound & Vision Package
Navigate every journey in style with the innovative Head-Up display and enjoy important directions and information projected conveniently onto your windscreen. Plus, immerse yourself in every journey with the addition of the unrivalled Harmon Kardon premium audio system in the Sound & Vision Package.
Luxury Package
You'll find a world of luxury in every Golf GTI, but, for a little extra charisma, the Luxury Package offers a Panoramic electric sunroof, Heated steering wheel, ventilated and heated front seats, Vienna leather appointed upholstery5 and an electric driver's seat with memory.
Features & Colours
Customise

Your Choice
Features of GTI
Powerful yet practical, the evolved hot hatch lets you be an urban explorer one day and a sports icon the next
GTI interior and exterior styling
Alloy wheels (Richmond) 18"
LED front fog lights
Adaptive Chassis Control
Metallic/Pearl Effect paint
Book a Test Drive
Next

Steps
---
Volkswagen Terms & Conditions
+
1. Fuel consumption figures according to ADR 81/02 derived from laboratory testing. Factors including but not limited to driving style, road and traffic conditions, environmental influences, vehicle condition and accessories fitted, will in practice in the real world lead to figures which generally differ from those advertised. Advertised figures are meant for comparison amongst vehicles only.
2. Safety technologies are designed to assist the driver, but should not be used as a substitute for safe driving practices.
4. App-Connect is compatible for selected apps with the latest smartphone versions of iOS and Android, active data service required.
5. Leather appointed seats have a combination of genuine and artificial leather, but are not wholly leather.