The Transporter

Business as usual, just got easier.

For over 70 years, the Transporter Van has been a trusted Aussie work partner. Helping local businesses complete tough jobs with confidence. And in November the latest Transporter 6.1 Van will land on our shores. Decked out with safety features like Front Assist with City Emergency Brakes, so you can get the job done without a hitch. Because at Volkswagen, we believe in safety as standard. Making the Transporter 6.1 what it is today, that's great for business, and great for customers.

Book a Test Drive
Designed to
handle any task
The Volkswagen Transporter 6.1 is built with the space to grow. Including countless options to customise your van to the changing needs of your business.
Book a Test Drive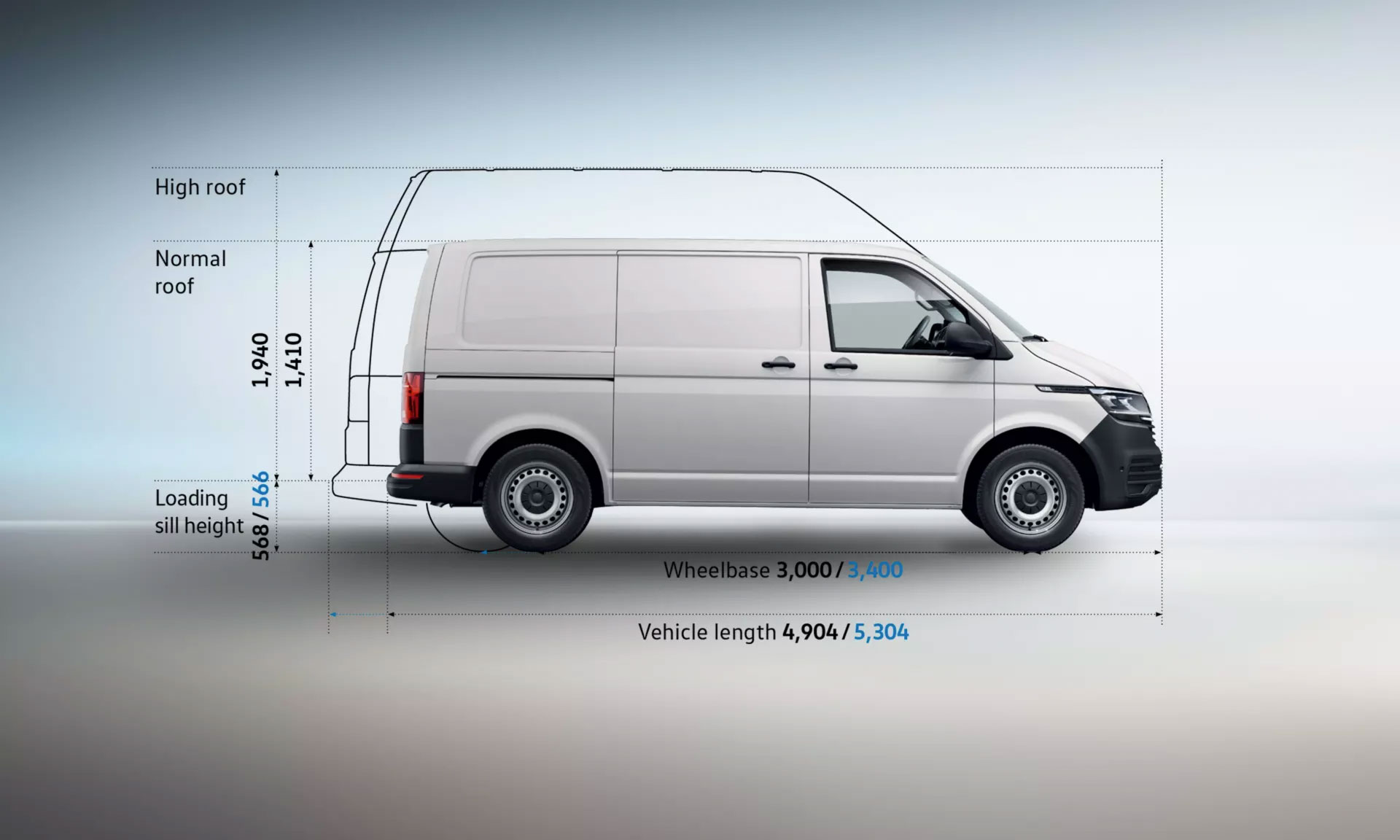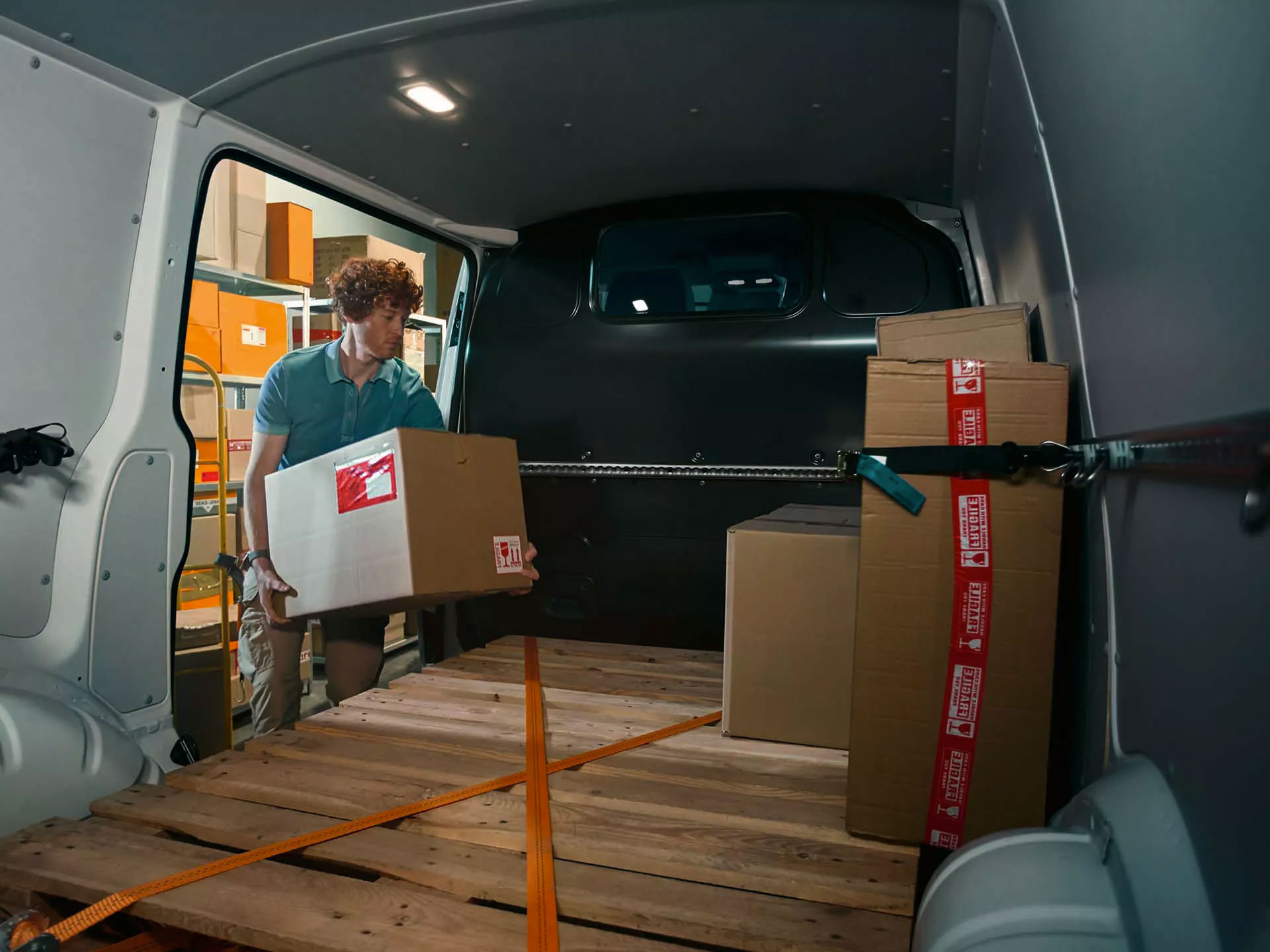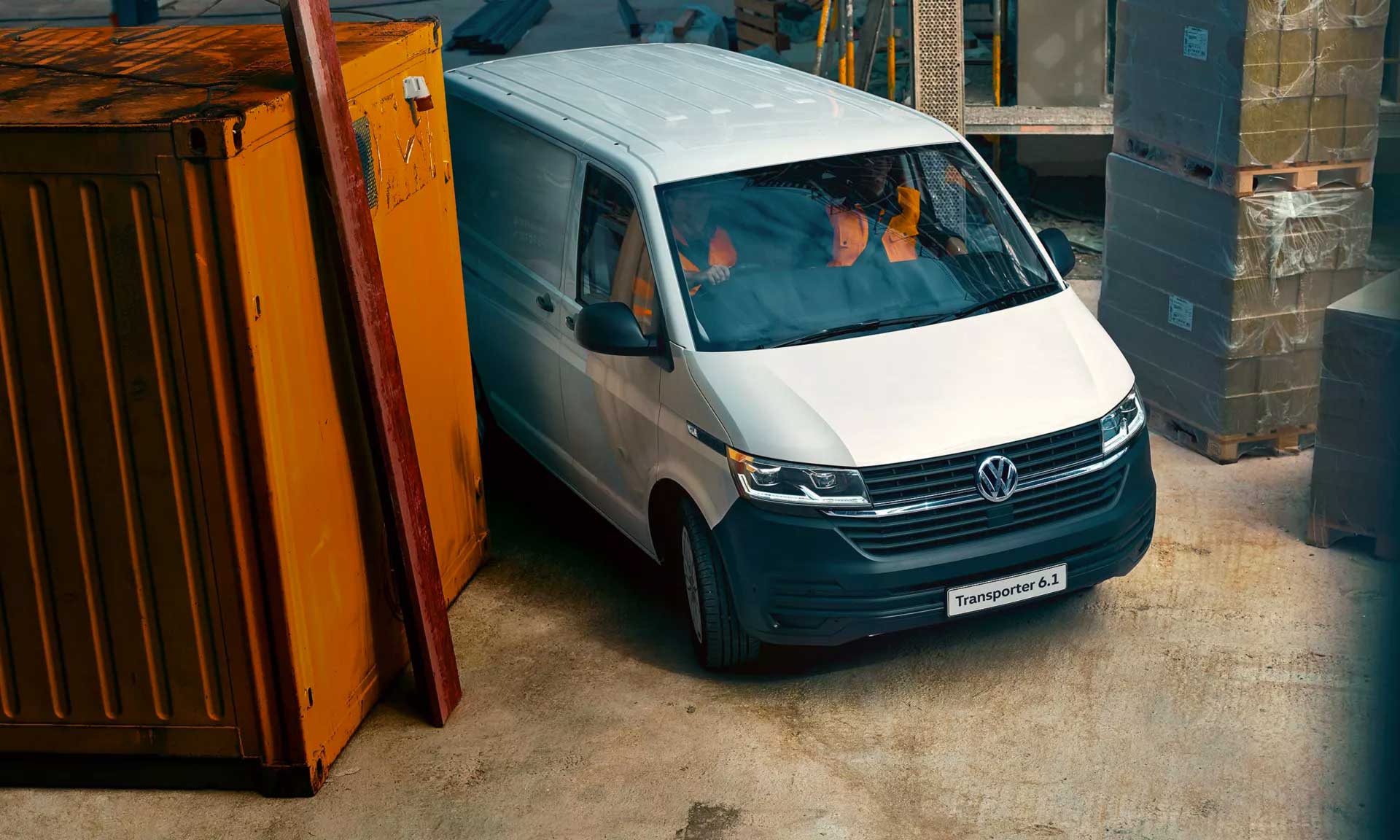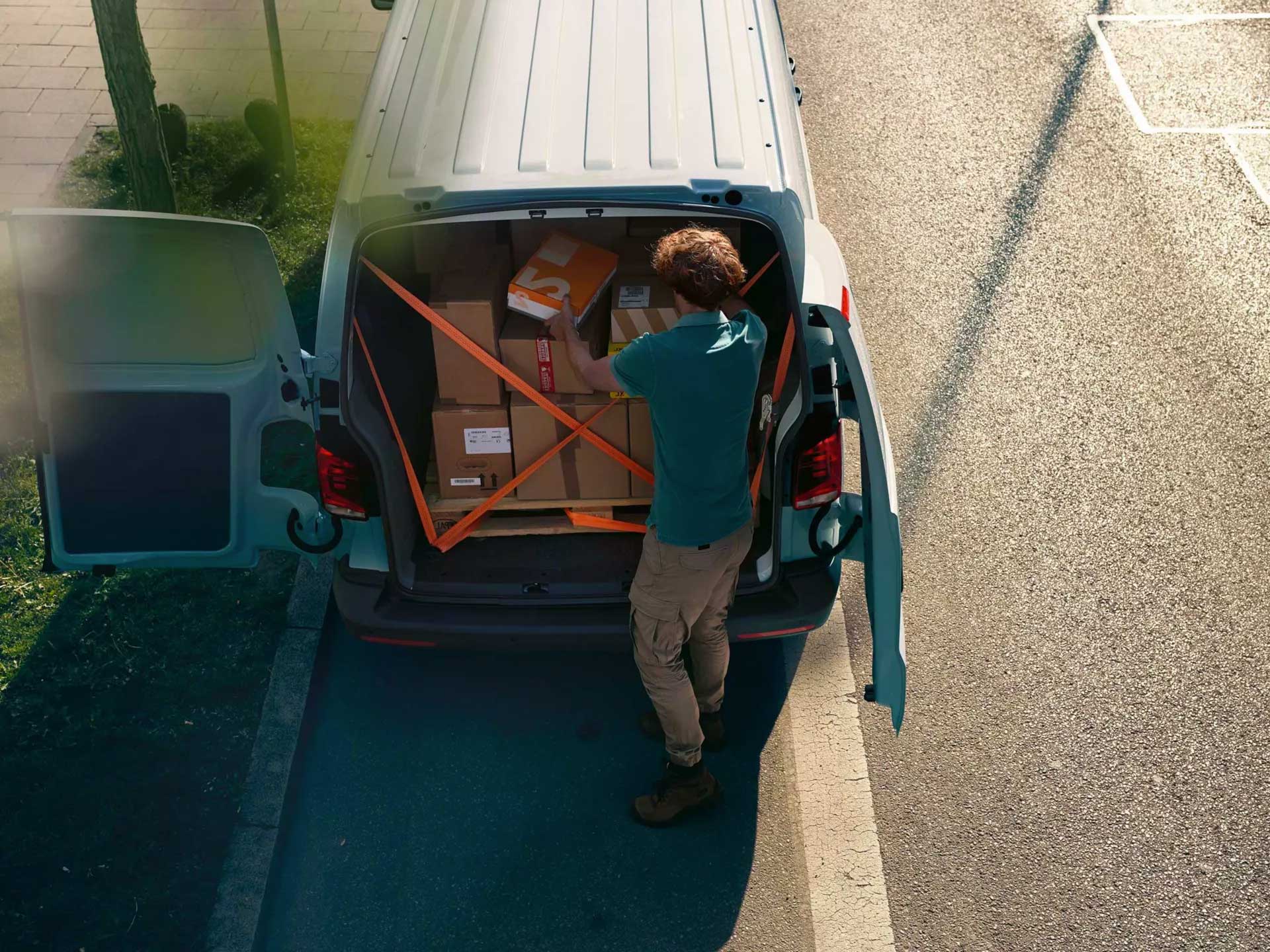 Length and roof height
Ready for any job

, no matter the size

The Transporter is perfect for all kinds of businesses, with two different wheelbases available. The Transporter's short wheel base comes with a vehicle length of 4,904mm, and a roof height of 1,990mm, so that you can carry more. Looking for even more space? The Transporter's long wheelbase is your best bet. With 5,304mm in vehicle length and up to 2,477mm in roof height, when you order the high roof.
Payload and volume
One job,
one journey
Prepared for the heaviest of orders, the Transporter can accommodate a load volume ranging between 3.5m3 to 4.4m3 in the Transporter Crewvan and 5.8m3 to 9.3m3 in the Transporter Van. With space for up to three Euro pallets, depending on your chosen wheelbase. So you can move more in a single trip.
Drive
Made
to move
Complete with 3 engine options with an intense power output ranging between 81-146kWs. To help you overcome the ups and downs any journey, the Transporter boasts powerful 4MOTION capabilities. Transforming it into the most off-road ready vehicle in its class. On top of that, the Transporter has a variety of optional features for the road ahead, including its Mechanical Differentiation Lock, DSG and Hill Descent Assist to support the Transporter's 4MOTION.
Customisation
Add your

company touches

The Transporter is made to be configured inside and out, adapting to needs of your business. The Transporter Van comes with a standard tailgate and left-sliding doors in addition to an optional right sliding and rear wing door upgrade. It also comes with 2 standard seats and an optional bench seat, bringing it to three. Whilst the Transporter Crewvan also includes a right sliding door at no extra cost, as well as 5 seats. So that you can pick the number of seats and door configuration that's right for your business.
There when you
need it most
The Transporter always has an eye out for potential hazards, with a multitude of safety and driver assistance systems designed to keep you and your cargo safe.
Book a Test Drive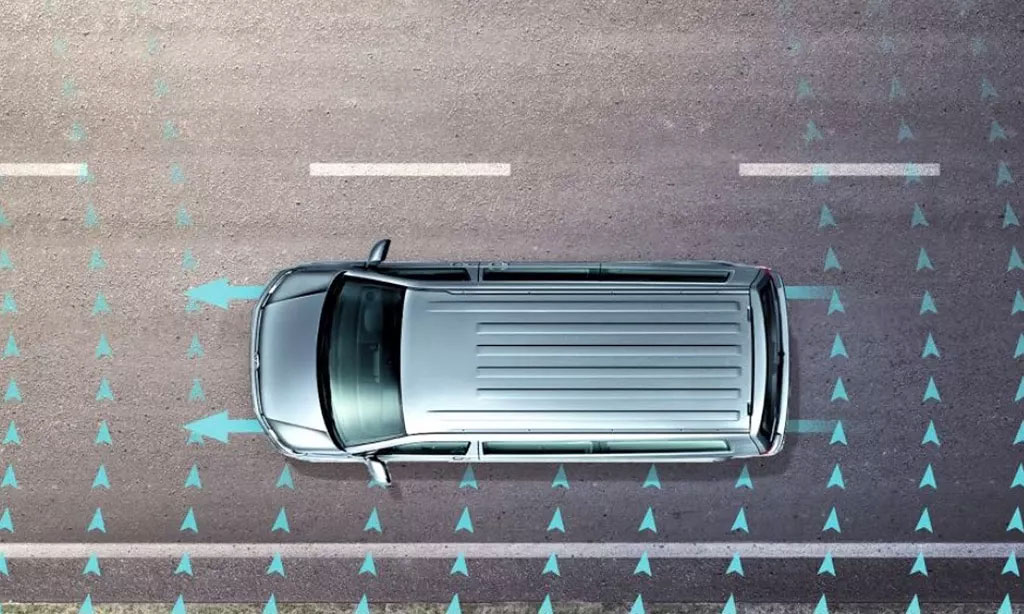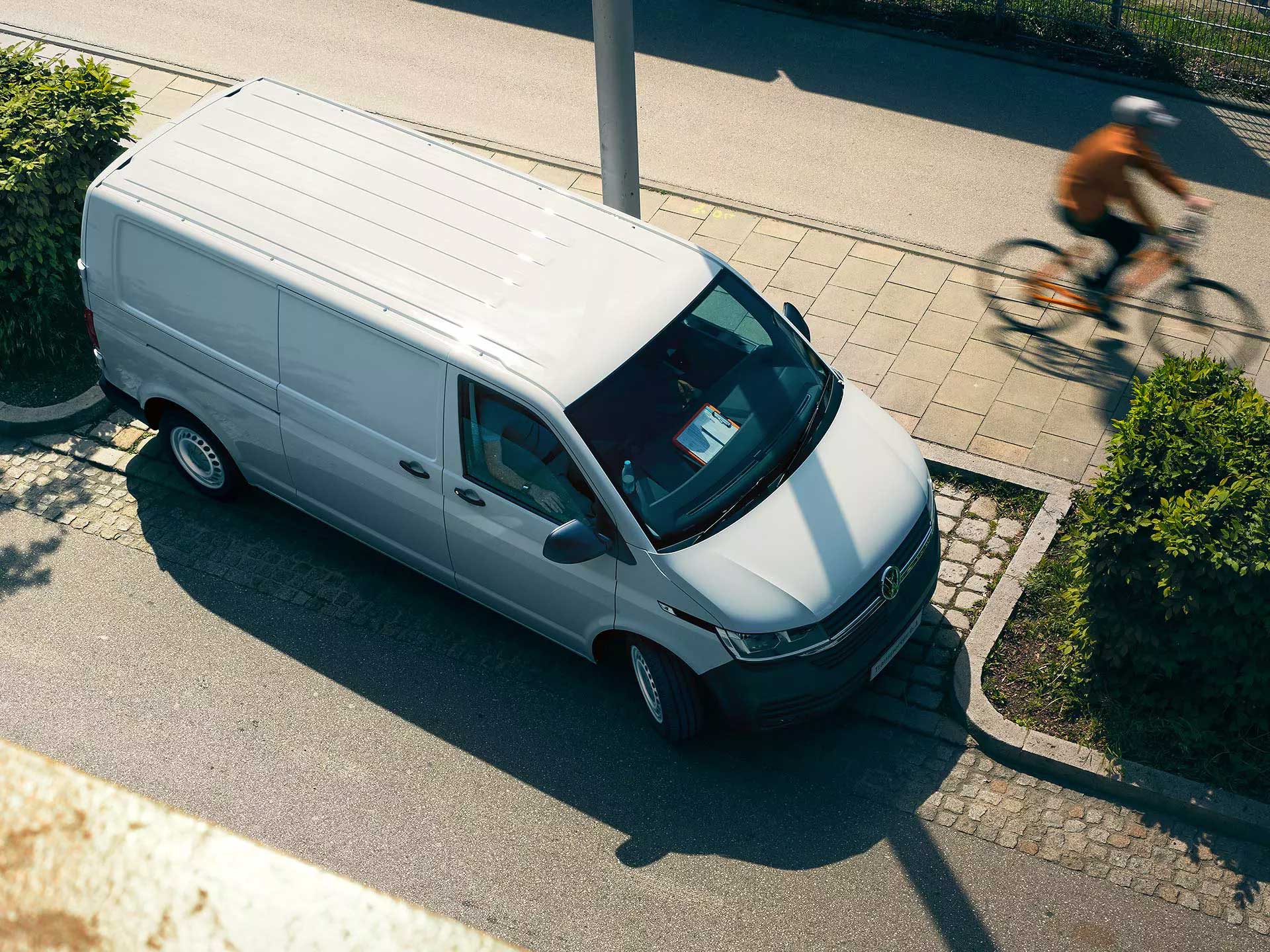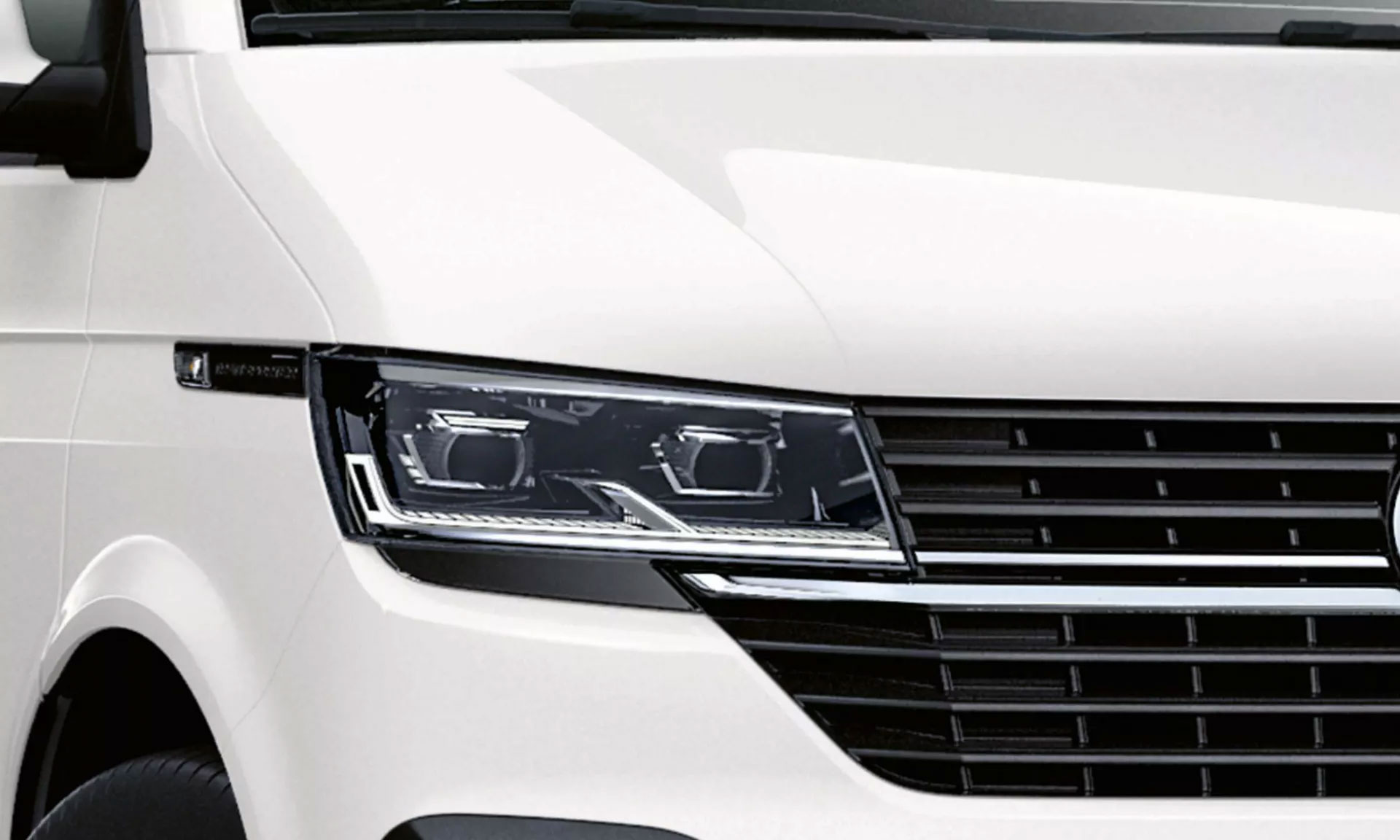 Safety as standard
Ready to stop
at a moment's notice
The Transporter Van and Crewvan are both built with a variety of safety features to keep you safe in all kinds of places. Including Front Assist with City Emergency Brakes and Blindspot Monitoring With a Rear Traffic Alert for metropolitan jobs, as well as Multi-Collision Brakes and Crosswind Assist giving you confidence in tough conditions.2
Driver Assistance Systems
Always

on the lookout

We never lose sight of the importance of road safety. That's why our Transporter vehicles can be upgraded with a range of driver assistance systems including Adaptive Cruise Control, Park Assist and Highbeam Light Assist.
Convenience
See
everything
The Transporter is complete with the optional H7 twin halogen headlights, and LED interior lighting for late-night tasks. With electrically adjustable exterior door mirrors that fold inwards when the vehicle is locked. So that you have an optimal view inside and outside the Transporter, under a variety of working conditions.
The final touches

are here

When you're on the road all day, the little things count. The Transporter hosts a range of features to make it a comfortable, connected and secure workstation for your business.

Book a Test Drive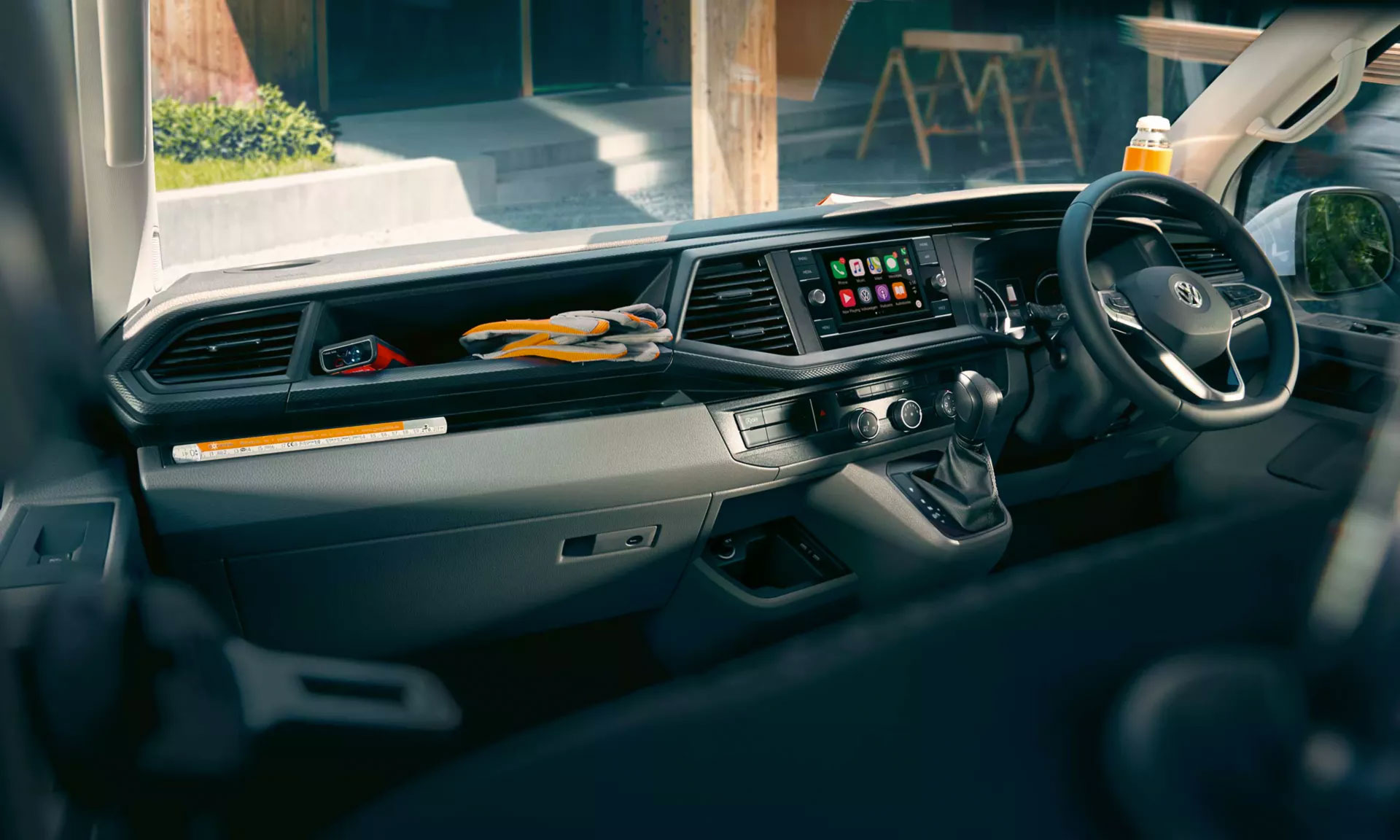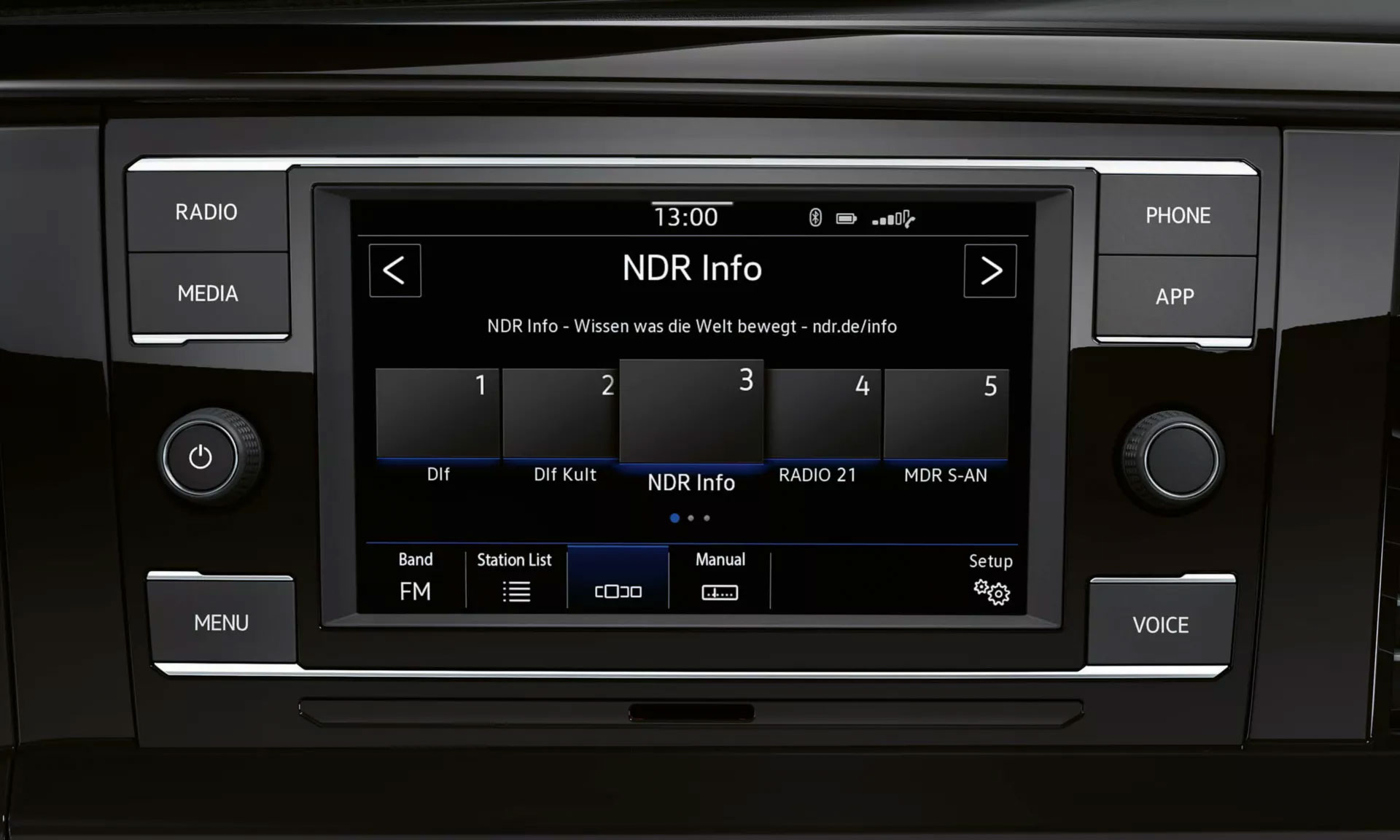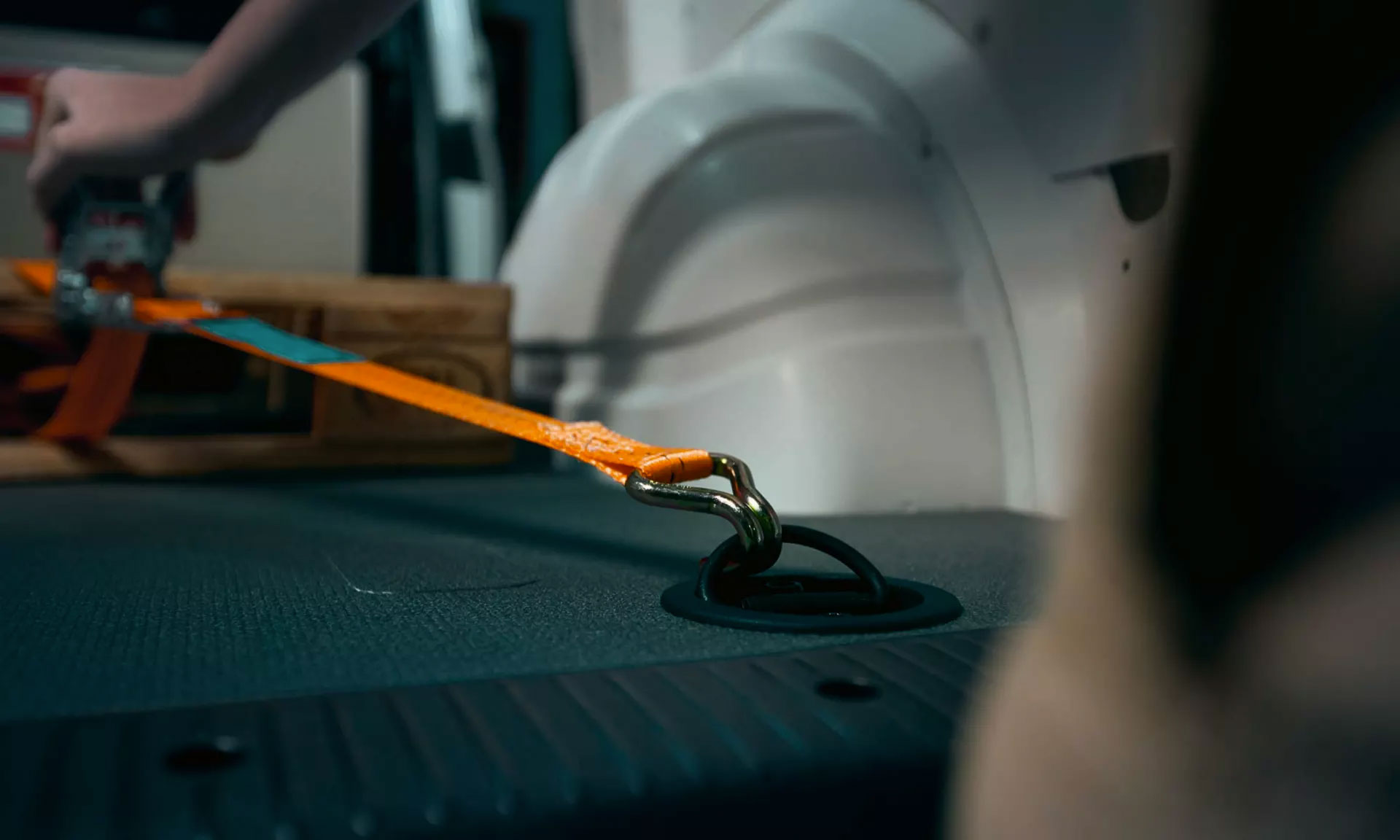 Driver comfort
Ergonomic
by design
Getting from A to B has never been comfier. The Transporter 6.1 has been designed with driver comfort in mind. With an endlessly adjustable multifunctional steering wheel and driver seat, dimensionally stable comfort cushioning and a redesigned dash panel to make your seat as customisable as any desk chair.
Infotainment
Stay
connected
We've given our infotainment features an update. Namely our redesigned dash panel including a 6.5" colour touchscreen with App-Connect and Bluetooth capabilities. So that you can manage business calls, initiate optional onboard navigation and listen to the radio, without losing focus on the road. 4
Load securing
Keeps
everything in place
The Transporter 6.1 comes with the space to store materials, tools, packages and many more items. As such, we also offer a range of intelligent solutions to keep your cargo in place. With considerate features like load compartment locking function, lashing eyes and optional loading sill protection, lashing rails, partitions and floor coverings.
Features & Colours
Customise

Your Choice
Features of Van
Active Info Display with customisable menus and information
Alloy wheels (Milton Keynes) 18"
Adaptive chassis control with Driving profile selection
GTI body styling
Front differential lock
Anti-theft alarm system
Book a Test Drive
Choose your
exterior colour
Ascot Grey
Features of Crewvan
Active Info Display with customisable menus and information
Alloy wheels (Milton Keynes) 18"
Adaptive chassis control with Driving profile selection
GTI body styling
Front differential lock
Anti-theft alarm system
Book a Test Drive
Choose your
exterior colour
Candy White
Next

Steps
---
Volkswagen Terms & Conditions
+
1. Payload is defined as the Gross Vehicle Mass (GVM) minus the Kerb Mass. Payload is the maximum combined weight of occupants, cargo, added structures and tow ball down weight (when towing). GVM must not be exceeded.
2. Safety technologies are designed to assist the driver, but should not be used as a substitute for safe driving practices.
4. App-Connect is compatible for selected apps with the latest smartphone versions of iOS and Android, active data service, and connection cable (sold separately).
5. Optional accessories at extra cost. Overseas models are shown for illustrative purposes only. The above accessories may have an effect on fuel efficiency. Items such as sports equipment, cargo carriers and bike racks are shown for illustration purposes only.
6. The Volkswagen Universal Traffic Recorder App (UTR App) is only for use in combination with the Universal Traffic Recorder (UTR/Dashcam) of Volkswagen Genuine Accessories. Its capabilities include live viewing, data management, a car finder function and being able to adjust the recorder's settings. All functions of the Volkswagen UTR app require an active data service between the Universal Traffic Recorder and your smartphone. Configurations vary by model (Front only or Front/Rear camera). Consult your local Volkswagen Dealer for further information.